Takatori Mine
Suzugoya, Shirosato city, Higashi-ibaraki county, Ibaraki pref., Japan
Occurrence
Sn-W Pneumatolytic deposit formed by intrusion of the early Paleocene (65 Ma) Inada Granite in the Late Jurassic (150 Ma) Takatori Unit of an accretionary complex, the Yamizo Group. 4 stages of the deposit formation process were recognized: 1. Greisen (Topaz + Fluorite), 2. Ferberite + Quartz, 3. Sulfide + Quartz, and 4. Pyrite + Quartz. The Takatori Unit probably corresponds to the Kamiaso Unit of the Tamba-Mino-Ashio accretionary complex. The Inada Granite is S-type (Ilmenite-series) and supplies W and F to the deposit. Ages of chert and siliceous shale in the Takatori Unit is Middle Triassic to Early Jurassic and Middle Jurassic, respectively. Approximately 10 km apart from the Inada granite, the heat source. Ages of sedimentary rocks were determined by radiolarians, and granite by K-Ar radiometric dating.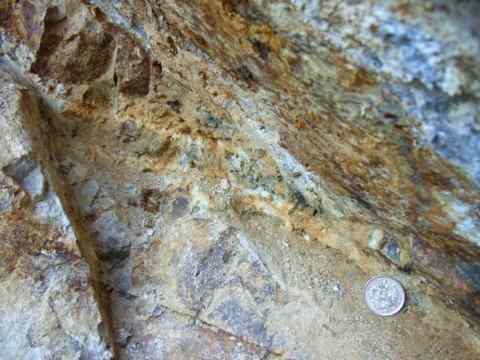 Outcrop of siliceous shale of the Takatori Unit associated with pneumatolytic deposit. The white veins around the coin are composed of fluorite, muscovite and quartz. The host is siliceous shale.
Reported Minerals
Bismuth
Bismuthinite
Arsenopyrite
Rhodochrosite
Apatite
Quartz
Mineral Assemblages
Quartz - Muscovite - Topaz - Fluorite - Apatite
Quartz - Muscovite - Cassiterite
Quartz - Ferberite
History
around 1590: Cassiterite was discovered as a placer deposit, and cassiterite was mined.
1908: Sojiro Ikeda and Mankichi Kanazawa discovered an outcrop of wulframite deposit, and started to mine W.
1921: The mine was closed.
1925: Restart to mine.
1930: The mine was closed.
1944: Restart to mine.
1963: The mine was closed.
1967: Restart to mine.
1985: The mine was closed.
Locality
Related Occurrences
Copyright (c) 2015 NariNari, All Rights Reserved.