Suzugouya, Shirosato city, Higashi-ibaraki county, Ibaraki pref., Japan
Source for Tungsten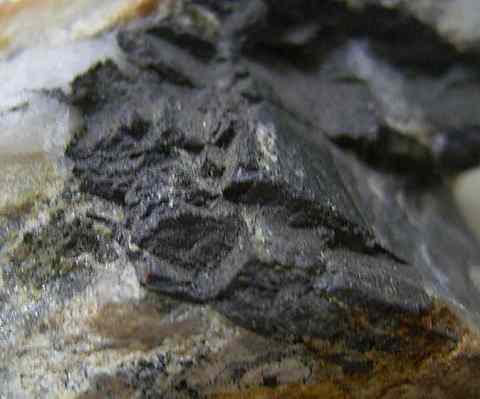 Field of view: 30 mm. A crystal of ferberite. The tabular black crystal exhibiting perfect cleavage along the basal plane is ferberite. The center part of the crystal is Fe/Mn= 1.0, whereas the outer margin of the crystal is composed of fine alternate zones of ferberite (Fe-end member) and hübnerite (Mn-end member). The massive translucent white part at the left is gangue quartz. The brown part at the lower right is a limonite crust.

Recovered from a quartz vein of a pneumatolytic deposit formed by S-type (Ilmenite-series) granite. Formed in the early Paleocene (65 Ma).

Ferberite from this location was described in 1912 as wolframite and in 1984 as ferberite.

Copyright (c) 2017 NariNari, All Rights Reserved.