Middle-pressure Metamorphic Rocks
Synonym
Middle-Pressure metamorphic belt
Overview
Metamorphic rocks subjected to Middle-P metamorphism. Protoliths are continental shelf sediments including limestone and Al-rich mudstone. Chloritoid and staurolite are observed in Al-rich pelitic schist, metamorphosed Al-rich mudstone. Middle-P metamorphic rocks distribute along accretionary complexes as bands in the island arc Protoliths of Middle-P metamorphic rocks suggest that they were formed at a continent-continent collision zone. Higo belt is interperted as a eastern part of the Qinling-Dabieshan-Sulu collision suture between the North China Craton and the South China Cration. Greenschist facies rocks generally produce kyanite. Hitachi facies series (Intermediate low-P) is a variety of Barrovian facies series producing andalusite instead of kyanite in Greenschist facies rocks.
Barrovian facies series (Middle-P)
Greenschist facies > Amphibolite facies > Low-P granulite facies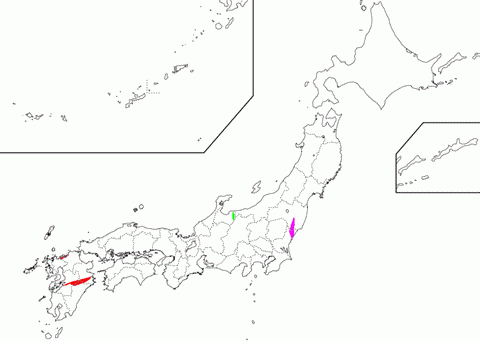 Middle-P metamorphic rocks distribute as bands along accretionary complexes.
Red: Higo belt, Pink: Hitach-Takanuki belt, Green: Unazuki metamorphic rocks
Hitachi-Takanuki belt and Unazuki metamorphic rocks are considered as a part of Higo belt.
Members
Higo belt (Triassic)
Hitachi-Takanuki belt (Triassic, Higo belt)
Unazuki metamorphic rocks (Triassic, Higo belt)
Geological Settings
Copyright (c) 2017 NariNari, All Rights Reserved.