Low-pressure granulite facies
Chemical Process (Solid-phase growth) - Middle-P metamorphic facies series
Index Minerals
Orthopyroxene
Required Geological Setting
Accretionary complexes + Middle-P metamorphic rocks
Occurrence
Metamorphic rocks formed by regional metamorphism in the following condition: more than 700 degree and 0.2-1.0 GPa (5-30 km depth). A metamorphic facies formed in subduction zones. Low-pressure granulite facies metamorphic rocks are in Barrovian-type middle-P metamorphic rocks.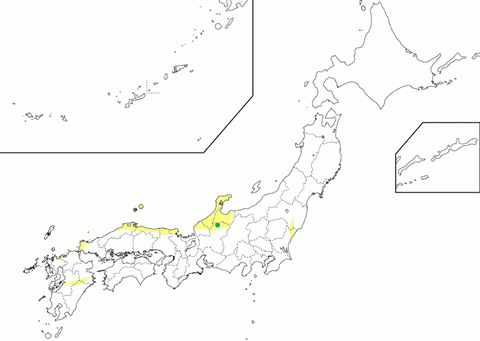 Distribution of metamorphic rocks subjected to low-pressure granulite facies regional metamorphism described in this site. Yellow zones are metamorphic belts.
Change of mineral assemblages
[ Extinct ] Muscovite, Amphibole
[ Appear ] Orthopyroxene
Mineral Assemblages
[ Felsic Rocks ] Quartz, Plagioclase, K-feldspar, (Hornblende, Biotite)
[ Mafic Rocks ] Orthopyroxene (Hypersthene), Clinopyroxene (Diopside), Plagioclase, (Hornblende, Biotite)
[ Ultramafic Rocks ]
[ Mudstone ] Garnet, Cordierite, Sillimanite, K-feldspar, Quartz, (Biotite)
[ Laterite ]
[ Bedded Mn ]
[ Carbonate Rocks ]
Localities
Related Occurrences
Copyright (c) 2013 NariNari, All Rights Reserved.