Kawazu Mine
Rendaiji, Shimoda city, Shizuoka pref., Japan
Strictly closed to collecting
Synonym
Rendaiji Mine
Occurrence
Moderate-T hydrothermal deposit
An early Pleistocene (1.5 Ma) moderate temperature hydrothermal deposit in andesitic pyroclastic rocks of the late Pliocene (3.0 Ma) Subara Andesite. The pyroclastic rocks, the host of the deposit, is calc-alkaline to tholeiitic, and have been subjected to strong prppylitization alteration. The late Pliocene (3.0 Ma) Subara Andesite unconformably overlies the late Miocene (7.5 Ma) Yugashima Group. Age of the deposit was determined by K-Ar radiometric dating of sericite in a vein, and volcanic rocks by K-Ar radiometric dating and fission track dating of zircon. The deposit is composed of approximately 15 parallel veins. These veins strike WNW to ESE. The average vein width is from 20 to 200 mm, and the maximum width is 10 m.
Veins at NE: Mn-rich, silicified large scale vein deposits.
>>Kakehashi vein deposit, Oukata vein deposit, Fujigakou vein deposit.
Veins at middle: Cu-rich vein deposits.
>>Tsurugamine vein deposit, Srukui vein deposit.
Veins at SW: Te-rich, pyrite-rich, small scale vein deposits.
>>Ousawa vein deposit, Hinokizawa vein deposit.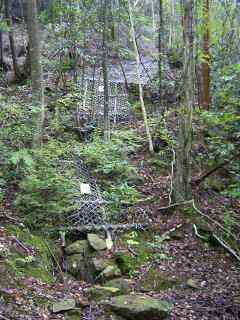 The Osawa lode. The straight lode is traced by the net. This lode was mined along the platy vein by the shrinkage method. The shrinkage method is exhibited at Osarizawa Mine, one of mine heritages in Japan.
Reported Minerals
Gold
Electrum
Silver
Sulfur
Tellurobismutite
Tetradymite
Argentite
Hessite
Digenite
Chalcocite
Stutzite
Bornite
Richardite
Galena
Chalcopyrite
Wurtzite
Empressite
Bismuthinite
Pyrite
Calaverite
Sylvanite
Tennantite
Hemusite
Wittichenite
Goldfieldite
Bohdanowiczite
Paratellurite
Aurorite
Cuprite
Todorokite
Goethite
Manganite
Hydroheterolite
Cerargyrite
Malachite
Azurite
Carbonatecyanotrichite
Calcite
Mn-calcite
Rhodochrosite
Cerussite
Rosasite
Serpierite
Antlerite
Linarite
Devilline
Parnauite
Barite
Anglesite
Gypsum
Langite
Kinichilite
Teineite
Spiroffite
Emmonsite
Pyromorphite
Variscite
Wavellite
Beudantite
Johannsenite
Quartz
Rhodonite
Nontronite
Kaolinite
Chrysocolla
Allophane
Adularia
Laumontite
Chabazite
Neotocite
Mineral Assemblages
Quartz(Gangue) - Tellurium - Paratellurite - Kawazulite
Quartz(Gangue) - Manganite - Todorokite
Quartz(Gangue) - Inesite
Quartz(Gangue) - Rhodochrosite - Johannsenite
Quartz(Gangue) - Sphalerite
Details of the mine
Small mines around here were also included in Kawazu mine: Suzaki, Omatsu, Shirahama, Komatsuno, Ukusu, and Amagane. The mine employed 1,200 workers at the best day. The total length of adits was approximately 84 km.
Produced metal
Gold: 5.4 tons
Silver: 273 tons
Copper: 1,054 tones
Manganese: 15,800 tons
History
1596: The deposit was discovered and started to mine.
1914: Started to mine Au, Ag, and Mn.
1915: The mine was bought by Hisahara Mining Corporation.
1941: The flotation concentrator was built.
1943: The mine was temporary closed because of World War II.
1945: Restarted to mine after the the World War II.
1952: The floatation concentrator was closed.
1959: The mine was closed, and started to supply hot spring to hotels in Shimoda city.
Localities
Related Occurrences
Copyright (c) 2015 NariNari, All Rights Reserved.