Washinosu Mine
Nishi-Waga city, Waga county, Iwate pref., Japan
This locality is closed to collecting.
Occurrence
Moderate-T hydrothermal deposit
Moderate temperature hydrothermal deposit in rhyolite lava and dikes in middle Miocene (15.4 - 13.6 Ma) Kawashiri Tuff Member, a top member of early - middle Miocene (16 - 13.6 Ma) Oishi Formation. These rhyolite lava and dykes form a submarine lava dome. Ages of sedimentary rocks were determined by microfossils.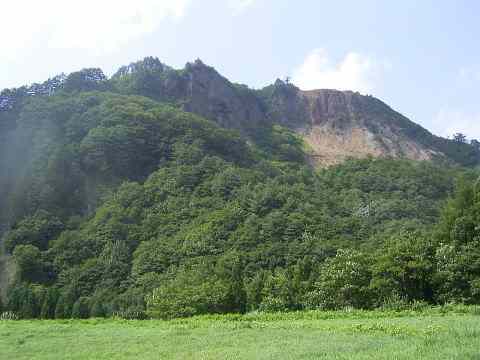 Outcrop of oxidation zone of Cu deposit. The green color is attributed to chlorite formed by alteration of rhyolite and rhyolitic pyroclastics of Oishi Formation. So called "Green Tuff", Japanese Tertiary sediments, was named after this.
Reported Minerals
Pyrite
Chalcopyrite
Malachite
Cuprite
Details of the mine
Cu was mainly mined, and Au and Ag were also produced.
History
1095: The legend says that this mine was developed in Kamakura era by Fujiwara family, who run local government in this area.
1901: Takichi Fukazawa rediscovered the deposit.
1903 - 1915: The Au deposit was mined.
1915 - 1963: The Cu deposit was mined.
1963: The mine was closed.
Localities
Related Occurrences
Copyright (c) 2015 NariNari, All Rights Reserved.