Kyurazawa Mine
Ashio village, Nikko city, Tochigi pref., Japan
Occurrence
Albite-Epidote-hornfels facies bedded Manganese deposit
Chert-hosted bedded manganese deposit in Permian - Jurassic chert blocks of Middle Jurassic Omama Complex. The deposit has been subjected to Albite-Epidote-hornfels facies contact metamorphism by Sori Granodiorite and Kobugahara Granodiorite. Approximately 2 km apart from Kobugahara Granodiorite, 3 km from Sori Granodiorite.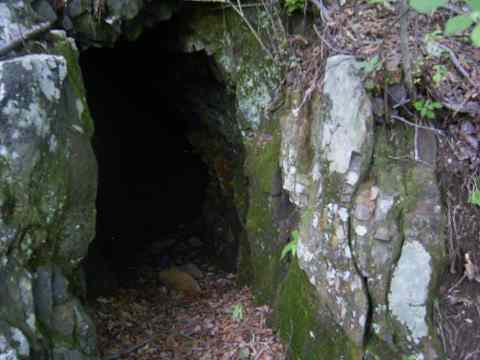 The entrance of the lowest level adit of Shin-sanjin ore body of Kyurazawa mine. The adit is on the outcrop of bedded chert of Omama Complex.
Reported Minerals
Pyrrhotite
Sphalerite
Galena
Calcite
Mineral Assemblages
Rhodonite - Manganpyrosmalite - Calcite
Rhodonite - Manganocummingtonite
Quartz - Spessartine
Produced metal
year 1949: Concentrate 860 t (Mn 40 %)
year 1950: Concentrate 790 t (Mn 40 %)
Localities
Related Occurrences
Copyright (c) 2022 NariNari, All Rights Reserved.