Takarayama Mine
Iwamoto, Ogitsu village, Hitachi city, Ibaraki pref., Japan
Occurrence
Greenschist facies metamorphic rocks
Quartz vein in Greenschist of the Cambrian (500 Ma) Daioin Formation subjected to Greenschist facies metamorphism in the Late Cretaceous (100 Ma) medium-P Abukuma metamorphic belt. Metamorphic grade is near the boundary between Greenschist facies and Epidote-Amphibolite facies. Age of sedimentary rock was determined by coral fossil, and metamorphic age by K-Ar radiometric dating of muscovite.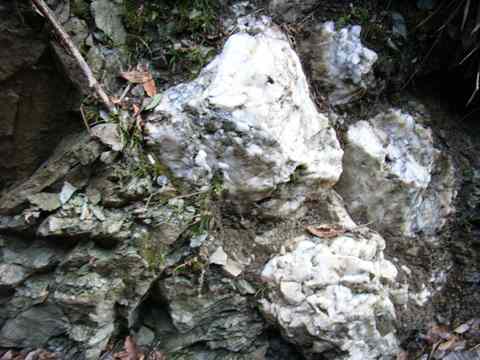 A quartz vein in greenschist of the Daioin Formation. These thick quartz veins were mined. Thick veins are usually parallel to the schistosity as shown in this photograph. The massive white part is quartz and the grayish-green host is greenschist. The scale coin is at the boundary between the quartz vein and the host.
Reported Minerals
Dravite
Chlorite
Albite
Quartz
Mineral Assemblages
Quartz(Gangue) - Dravite
Albite(Gangue) - Chlorite
Laumontite
Localities
Related Occurrences
Copyright (c) 2013 NariNari, All Rights Reserved.