Yamabuki Creek
Higashimachi-Naka, Shimo-Suwa city, Suwa county, Nagano pref., Japan
Occurrence
Greenschist facies metamorphic rocks
Small hematite deposit associated with tuff in the Late Jurassic (150 Ma) to Early Cretaceous (130 Ma) accretionary complex subjected to Greenschist facies metamorphism as a part of the high-P Sambagawa metamorphic belt in the Late Cretaceous (70 Ma). The Sambagawa metamorphic rocks is considered that it has been near the ground surface since early Paleocene (65 Ma). The metamorphic rocks has been subjected to the middle Miocene (15 Ma) granite. The granite is I-type (Magnetite-series), and approximately 200 m apart from this location. Metamorphic age was determined by K-Ar radiometric dating of muscovite.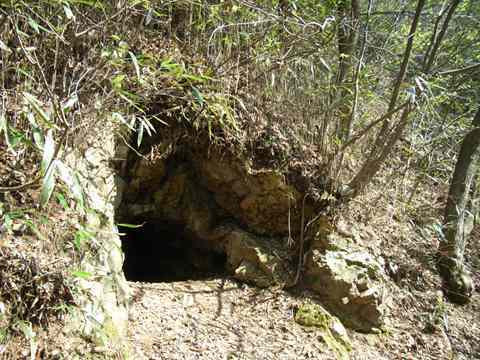 An adit mined for hematite ore during World War II. Hematite is concentrated in greenschist. The adit wall is greenschist of Sambagawa Metamorphic Rocks.
Reported Minerals
Mineral Assemblages
Green schist(Host) - Hematite
History
1965: Hematite was mined as iron ore.
Localities
Related Occurrences
Copyright (c) 2013 NariNari, All Rights Reserved.