Oshuku
Ashigawa village, Fuefuki city, Yamanashi pref., Japan
Occurrence
Albite-Epidote-hornfels facies contact metamorphic rocks
Dacitic tuff of the middle Miocene (14 Ma) Ashikawa Formation, the Nishi-Yatsushiro group, subjected to Albite-Epidote facies metamorphism by the Ashikawa quartz diorite in the middle Miocene (12 Ma). The Ashikawa quartz diorite is I-type (Magnetite-series). Approximately 500 m apart from the Ashikawa quartz diorite, the heat source. Ages of sedimentary rocks were determined by microfossils, quartz diorite by K-Ar radiometric dating of biotite and hornblende.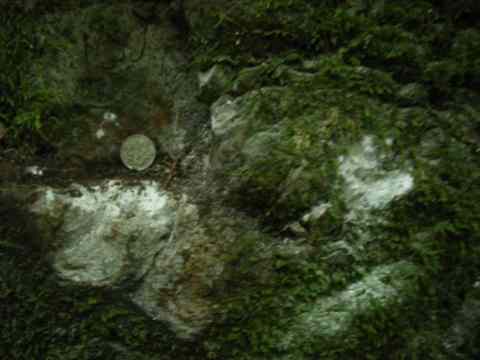 Outcrop of dacitic tuff of the Ashikawa Formation subjected to Albite-Epidote-hornfels facies contact metamorphism. Most parts are covered with green moss. Grayish-white parts are metamorphosed tuff composed of quartz and epidote. Epidote was formed by alteration of anorthite.
Reported Minerals
Mineral Assemblages
Localities
Related Occurrences
Copyright (c) 2013 NariNari, All Rights Reserved.