Mount Hokiya
Toyosaka, Matsushiro village, Nagano city, Nagano pref., Japan
Occurrence
Low-temperature zeolite facies metamorphic rocks
Phenocryst and zeolite in vesicules of Basalt of Pliocene Hokiyadake Volcanics.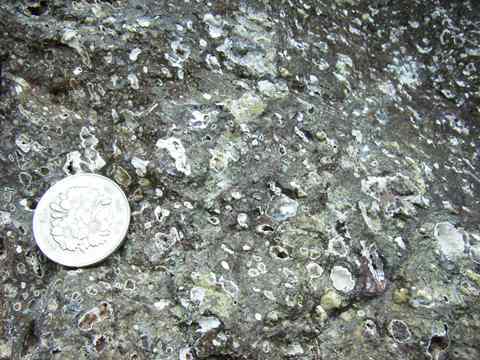 Outcrop of basalt of Hokiyadake Volcanics. The white parts in this photograph are zeolite in vesicules of altered black basalt. Zeolite-bearing basalt ditributes as an altered brown vertical zone in the outcrop. The width of the zone is approximately 1.5 m.
Reported Minerals
Dachiardite
Mordenite
Calcite
Mineral Assemblages
Dachiardite
Mordenite
Basalt(Host) - Bytownite
Localities
Related Occurrences
Copyright (c) 2022 NariNari, All Rights Reserved.