Hikage Mine
Tsuruse, Yamato village, Koshu city, Yamanashi pref., Japan
Occurrence
Small molybdenite deposit associated with high temperature hydrothermal deposit in the Tonoki body of the late Miocene (10 Ma) Tokuwa Granite intruded in the early Oligocene (30 Ma) Sasago Unit of the Sagamiko Group, a member of the Shimanto accretionary complex. The Tonoki body is the S-type (Ilmenite-series) margin of the I-type (Magnetite-series) Tokuwa Granite. The S-type (Ilmenite-series) margin was formed by reduction reation of granite magma with surrounding pelitic rocks. Ages of sedimentary rocks were determined by radiolarians, and granite age by K-Ar radiometric dating of biotite and whole rock.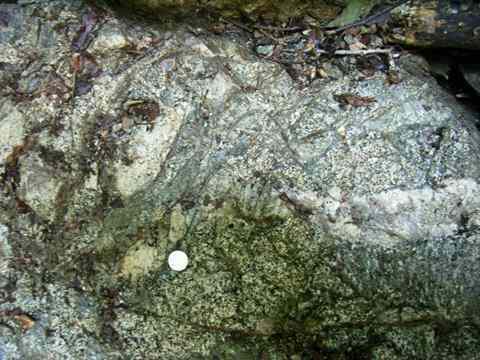 Outcrop of granite of the Tonoki body, the Tokuwa Granite. The white parts with black dots are granite. White veins are quartz, gangue of the deposit, and its thickness changes in the small scale. Molybdenite crystals were in this quartz vein.
Reported Minerals
Mineral Assemblages
Quartz(Gangue) - Molybdenite
History
1915-16: Molybdenite ore was reported from this deposit.
Localities
Related Occurrences
Copyright (c) 2015 NariNari, All Rights Reserved.