Goshonoiri Mine
Yamagata village, Sano city, Tochigi pref., Japan
Occurrence
Bedded manganese deposit (Diagenesis)
Bedded manganese deposit preserving original chemical composition and sedimentary structures. This deposit is in the Permian Cisuralian (280 Ma) bedded chert block of the Early Jurassic (180 Ma) Omama Unit. The Omama Unit corresponds to the Funafuseyama Unit of the Tamba-Mino-Ashio accretionary complex. Ages of sedimentary rocks were determined by radiolarians.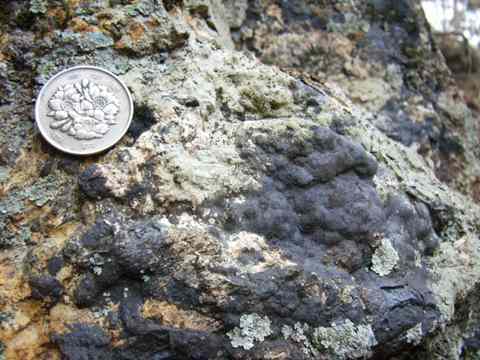 Outcrop of manganese dioxide on the surface of bedded chert of the Omama Unit. The light brown basement at the lower left is host chert. The black crust on the surface is mammillary aggregate of manganese dioxide. White and grayish-green parts are lichen growing on the surface of the outcrop.
Reported Minerals
Mineral Assemblage
Quartz - Manganese dioxide
Localities
Related Occurrences
Copyright (c) 2015 NariNari, All Rights Reserved.