Higashi-Mozumi, Kamioka village, Hida city, Gifu pref., Japan
This locality is closed to collecting.
Source for Lead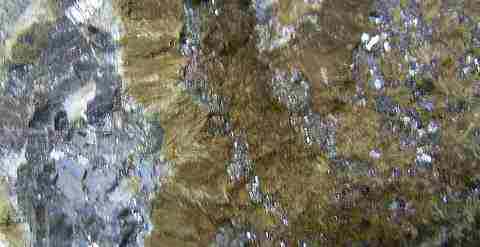 Field of view: 50 mm. Galena associated with hedenbergite. The coarse dark grayi parts exhibiting perfect cleavage are galena. The brownish-green bands are hedenbergite, and hedenbergite fibers are vertical to bands. This hedenbergite-dominant ore is called Moku-ji by miners.

Recovered from a pneumatolytic deposit combined with skarn formed by contact metamorphism of I-type (magnetite-series) granite. Formed in the early Paleocene (65 Ma).

Galena from this location was described in 1885.

Copyright (c) 2017 NariNari, All Rights Reserved.