Shirataki Creek
Yunishigawa, Nikko city, Tochigi pref., Japan
Occurrence
S-type (Ilmenite-series) skarn
Small wollastonite skarn formed by the Late Cretaceous (100 Ma) granite intruded in the Late Jurassic (160 Ma) Kurohone-Kiryu unit, a member of the Tamba-Mino-Ashio accretionary complex. The granite is I-type (Magnetite-series). The age of limestone is probably Permian (270 Ma). Approximately 500 m apart from the granite, the heat source. Ages of sedimentary rocks were determined by radiolarians.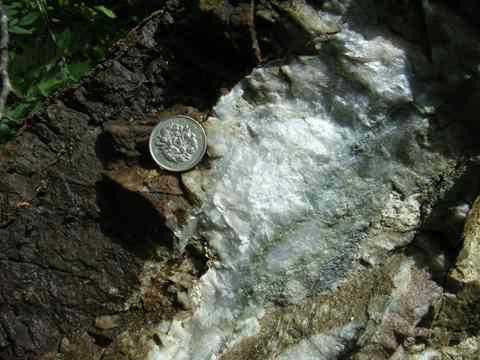 Outcrop of wollastonite skarn in the Kurohone-Kiryu Unit. The brown parts below the scale coin are chert. The light gray part at the lower right is limestone. The opaque white part at the right of the coin is aggregate of fibrous wollastonite. The greenish bands and dark gray bands are aggregate of fine epidote and graphite, respectively. Wollastonite was formed at the boundary between chert and limestone by the following reaction:
3CaCO3 (Calcite) + 3SiO2 (Quartz) >> Ca3Si3O9 (Wollastonite) + 3CO2
Where SiO2 was supplied from chert and CaCO3 from limestone.
Reported Minerals
Mineral Assemblages
Quartz - Wollastonite - Calcite
Localities
Related Occurrences
Copyright (c) 2013 NariNari, All Rights Reserved.