Su river
Zao-Onsen, Yamagata city, Yamagata pref., Japan
Occurrence
Intermediate acidic metasomatic rocks of Cristobalite zone
Argillization deposit formed at the altered basement of the Late Pleistocene (50 ka) Sukawa debris flow deposit of Zao volcano. Gypsum are in the deposit. The Sukawa debris flow deposit is debris of the early Pleistocene (1.0 Ma) Ryuzan Lava, and is composed of low alkaline tholeiitic basalt. Zao Volcano is an active volcano, and has been active since the Middle Pleistocene (100 Ma). The age of the Sukawa debris flow deposit was determined by radiocarbon dating, and the Ryuzan Lava by K-Ar radiometric dating.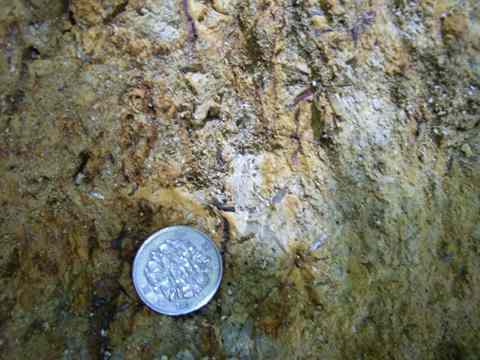 Outcrop of the Sukawa debris flow deposit subjected to argillization alteration. The white to pale brown host is clay formed by acidic hydrothermal alteration of basalt. Long prismatic colorless to brown crytals are gypsum. As seen at the upper right and the right of the coin, prismatic gypsums grow radially on the nuclei of basalt fragments.
Reported Minerals
Mineral Assemblages
Gypsum - Smectite
Basalt(Host) - Pyrite
Localities
Related Occurrences
Copyright (c) 2013 NariNari, All Rights Reserved.