Akaze
Akaze village, Komatsu city, Ishikawa pref., Japan
This locality is closed to collecting.
Occurrence
Intermediate acidic metasomatic rocks of Cristobalite zone
Opal in spherulitic rhyolite of the early Miocene (15 Ma) Iozen Rhyolites. The Iozen Rhyolites overlies the middle Miocene (17 Ma) Iwaine Formation. The Iozen Rhyolites is composed of rhyolite lava and rhyolitic pyroclastic rocks of continental to marine facies associated with lacustrine facies sediments. The Iozen Rhyolites may be the pyroclastic flow from a Miocene caldera. Ages of volcanic rocks were determined by K-Ar radiometric dating and fission track dating of zircon.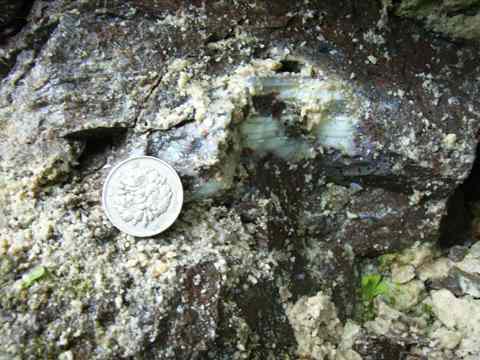 Outcrop of rhyolitic welded tuff of the Iozen Rhyolites associated with opal in open spaces. The reddish-brown host is the rhyolitic welded tuff, and white banded opal is at the upper right of the coin. Opal deposited parallel to the ground surface (perpendicular to the gravity). Unfilled pore is observed at the top of opal layers.
Reported Minerals
Mineral Assemblages
Rhyolite(Host) - Opal
Rhyolite(Host) - Opal - Clinoptilolite
Localities
Related Occurrences
Copyright (c) 2013 NariNari, All Rights Reserved.