Ashio Mine
Honzan, Ashio village, Nikko city, Tochigi pref., Japan
Synonym
Ashio Copper Mine
Occurrence
High temperature to moderate temperature hydrothermal deposits and massive deposits metasomated chert blocks of Middle Jurassic Omama Complex, Mino Belt. Hydrothermal deposits and massive deposits are associated with Ashio Rhyolitic Welded Tuff intruded in Omama Complex. Approximately 1400 hydrothermal veins and 100 massive deposit, Kajika deposit, have been recognized. Ages of sedimentary rocks were determined by radiolarians. The hydrothermal deposits are higher temperature at the center of Ashio Rhyolitic Welded Tuff and lower at the margin. Deposits are classified into 3 zones from the center of Mount Bizentateyama to margin: The central upper zone, the middle zone and the marginal zone.
Central upper zone: Sn, W, Bi, Cu
Middle zone: Cu, As, Zn
Marginal zone: Zn, Pb, Cu, As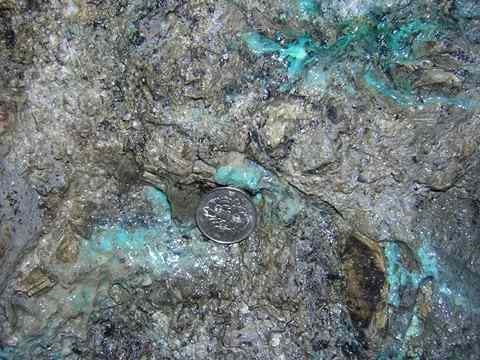 Outcrop of rhyolite of the Ashio Rhyolites on the wall of an adit. The massive blue crusts are chalcanthite deposited from water in the adit. The white basement is the host rhyolite.
Reported Minerals
Gold
Copper
Bismuth
Chalcopyrite
Marcasite
Arsenopyrite
Pyrrhotite
Sphalerite
Galena
Bismuthinite
Stannite
Stannoidite
Mawsonite
Cosalite
Ludlamite
Chalcocite
Calcite
Apatite
Siderite
Cuprite
Azurite
Vivianite
Malachite
Cassiterite
Wolframite
Ikunolite
Chrysocolla
Quartz
Chlorite
Sericite
Topaz
Mineral Assemblages
Quartz(Gangue) - Chalcopyrite - Pyrite - Pyrrhotite
Quartz(Gangue) - Wolframite - Bismuth
Details of the mine
Mr. Ichibe Furukawa modanized this mine after administration of Edo (old Japanese) government as an important copper mine in Edo era. This mine hired 40,000 workers at the best days. 15,000 vein deposits and 100 massive "Kajika" deposits were mined. Total length of adits is approximately 1,200 km.
Produced Copper
Edo era (1610-1760): 0.12 million tons
Meiji-Showa era (1887-11973): 0.68 million tons
History
1610: A farmer from Bizen district (present Okayama prefecture, SW Japan) discovered the Cu deposit, and the mountain was named as Mount Bizen-tateyama after the place he was born. Started to mine Cu.
1647: The government started to run the mine as the most important resource of Cu.
1760: Cu production was drastically reduced.
1821: The mine was closed.
1877: Mr. Ichibe Furukawa bought and modernized the mine. Re-started to mine Cu.
1973: The mine was closed.
Localities
Ashio Mine (Granite porphyry)
Akenobe Mine (Granite)
Ikuno Mine (Granite)
Related Occurrences
Copyright (c) 2015 NariNari, All Rights Reserved.