Nishinomaki Mine
Minami-Nomaki, Shimonita city, Kanra county, Gunma pref., Japan
This locality is closed to collecting.
Synonym
Saimoku Mine
Occurrence
Low-T hydrothermal deposit associated with the late Miocene (6.0 Ma) andeste-dacite dikes intruded in andesitic tuff breccia of the Motojuku Formation of the same age. The Motojuku Formation is composed of andesitic tuff breccia and andesitic-dacitic dikes filling the late Miocene-Pliocene Motojuku Caldera. Approximately 1 km apart from the Ichinokaya Caldera Complex, the caldera complex of the Motojuku caldera. Ages of volcanic rocks were determined by K-Ar radiometric dating.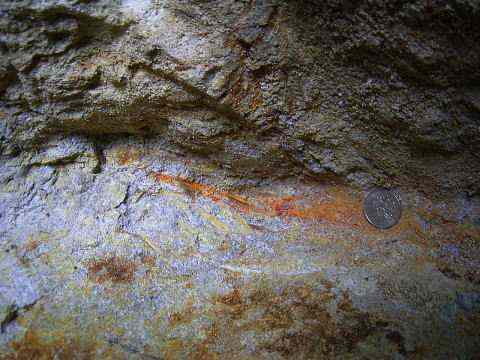 Outcrop of realgar veins in andesitic tuff breccia of the Motojuku Formation. The grayish-white host is altered andesitic tuff breccia. The red to orange parts are realgar. Fine realgar grains are scattered in the host.
Reported Minerals
Pyrite
Marcasite
Tennantite
Senarmontite
Stibiconite
Barite
Mineral Assemblages
Realgar - Pyrite - Stibnite
Realgar - Orpiment - Quartz - Wakabayashilite
Localities
Related Occurrences
Copyright (c) 2015 NariNari, All Rights Reserved.