Ichino River
Ranzan city, Hiki county, Saitama pref., Japan
Synonym
Ichinokawa River
Occurrence
Hydrothermal deposit along fault
Chalcedony vein in rhyolitic tuff of the Hatakeyama Tuff Member, the middle Miocene (15 Ma) Arakawa Formation. This chalcedony was possibly formed by low temperature hydrothermal activity associated with the fault between the Arakawa Formation and the Rhoke metamorphic rocks. The Rhoke metamorphic rocks was formed by the Late Cretaceous (100 Ma) low-P metamorphism. The Arakawa Formation is composed of turbidite, alternating beds of mudstone and sandstone, and sedimentary circumstance is bathyal such as continental shelf. The Arakawa Formation conformably overlies the Kozono Formation with basal conglomerate, and conformably underlies the Ichinokawa Formation.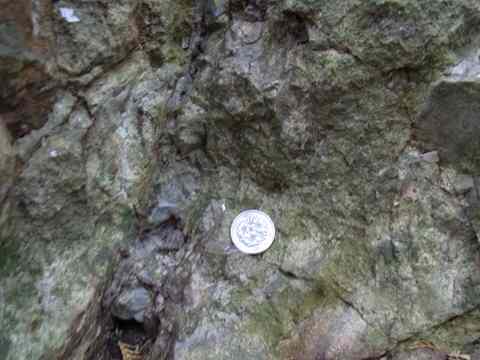 Outcrop of tuff of the Hatakeyama Tuff Member, Arakawa Formation. The white vein at the left of the coin is chalcedony. The grayish-white host is tuff.
Reported Minerals
Mineral Assemblages
History
1960s: Local people found this locality. Red jasper was mined for ornamental stone.
Localities
Related Occurrences
Copyright (c) 2015 NariNari, All Rights Reserved.