Honzawa Mine
Magi, Otsuki city, Yamanashi pref., Japan
Occurrence
Au-Bi-Te-bearing low temperature hydrothermal deposit at the boundary between the late Miocene (10 Ma) Tokuwa Granite and the middle Eocene (45 Ma) Gongenyama Unit of the Sagamiko Group, a member of the Shimanto accretionary complex. Granite at this locality is the S-type (Ilmenite-series) margin of the I-type (Magnetite-series) Tokuwa Granite. The S-type (Ilmenite-series) margin was formed by reduction reation of granite magma with surrounding pelitic rocks. The Gongenyama Unit at this locality has been subjected to Albite-Epidote-hornfels contact metamorphism. Ages of sedimentary rocks were determined by radiolarians, and granite age by K-Ar radiometric dating of biotite and whole rock.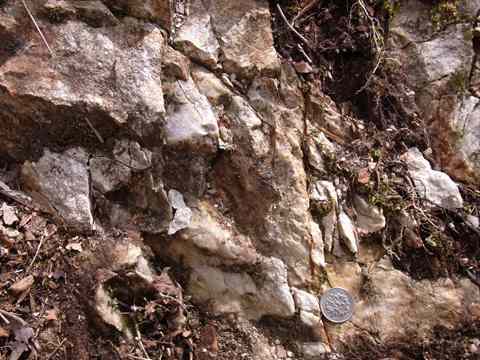 Au-bearing quartz vein in shale of the Gongenyama Unit subjected to contact metamorphism by granite. The light gray part at the upper left is metamorphosed shale. The scale coin is on the milky white quartz vein. Au-Bi-Te minerals are in this quartz vein.
Reported Minerals
Gold
Sulphur
Bismuth
Joséite(Joseite)
Bismuthinite
Pyrite
Arsenopyrite
Ilmenite
Bismutite
Scorodite
Chabazite
Mineral Assemblages
Quartz(Gangue) - Joséite(Joseite) - Gold - Bismuthinite - Bismutite
Quartz(Gangue) - Pyrite
Quartz(Gangue) - Arsenopyrite - Scorodite
Granite(Host) - Chabazite
Produced metal(1942-1943)
History
1942: Began to mine at the open pit.
1943: Closed.
Localities
Related Occurrences
Copyright (c) 2015 NariNari, All Rights Reserved.