Ote
Sori, Azuma town, Midori city, Gunma pref., Japan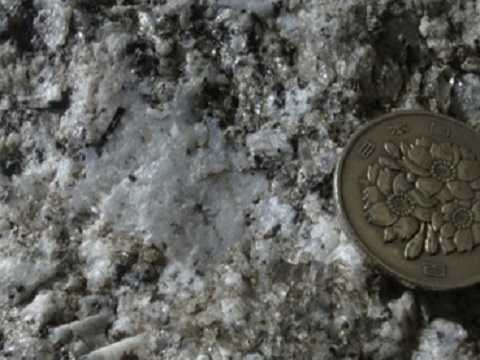 Field of view: 30 mm. Euhedral crystals of allanite-(Ce) included in plagioclase of granite. The long black prisms in relatively large white plagioclase are allanite-(Ce). The surrounding host is compolsed of black biotite, gray quartz, and white plagioclase.
Recovered from an enclave in Ilmenite-series) granite. Formed in Crataceous (145 - 66 Ma).
Allanite-(Ce) from this location was described in 1969.
Other localities
Daibosatsu Pass (Pegmatite, Prismatic)
Ote (Granite, Prismatic)
Kusaki (Granite, Prismatic)
Copyright (c) 2020 NariNari, All Rights Reserved.