Enzan, Koshu city, Yamanashi pref., Japan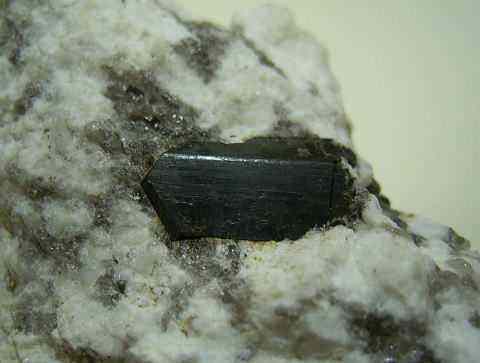 Field of view: 10 mm. An euhedral crystal of allanite-(Ce). The long black prism is allanite-(Ce). The opaque white grains are feldspar, and translucent gray grains are quartz.
Recovered from an allanite-monazite type rare-element pegmatite associated with S-type (Ilmenite-series) granite formed by the reduction reaction of I-type (Magnetite-series) granite with pelitic rocks. Formed in the late Miocene (10 Ma).
Allanite-(Ce) from this location was described in 1955.
Other localities
Daibosatsu Pass (Pegmatite, Prismatic)
Ote (Granite, Prismatic)
Kusaki (Granite, Prismatic)
Copyright (c) 2020 NariNari, All Rights Reserved.