Otome Mine
Yanagidaira, Makioka village, Yamanashi city, Yamanashi pref., Japan
"No Trespassing" sign was erected.
Synonym
Otomezaka Mine, Kurasawa Mine
Occurrence
Titanium type rare-element pegmatite
High-temperature hydrothermal deposit at the bondary between granodiorite of the Kinbu body and granite of the Shosenkyo body of the middle Miocene (13 Ma) Shosenkyo Granite. Granodiorite of the Kinbu body was intruded by granite of the Shosenkyo body. The gangue of the deposit is large pegmatitic quartz veins of the late Miocene (9 Ma) intruded in granodiorite. The Shosenkyo Granite is I-type and Ilmenite-series. Ages of granite was determined by K-Ar radiometric dating of biotite and whole rock, deposit by K-Ar radiomtric dating of sericite. The type locality of reinite, ferberite pseudomorph after scheelite.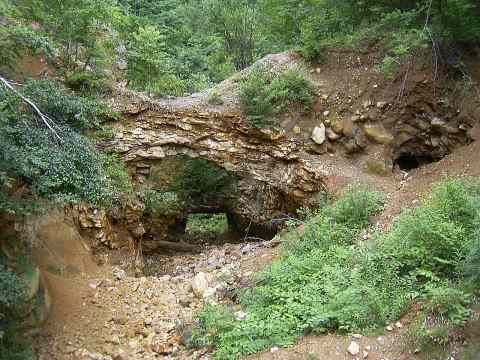 Adit on a huge quartz vein in granodiorite. Side walls of this adit are white quartz. Wooden frames are in the adit. The cave at the right end of this photograph is a pocket.
Reported Minerals
Anatase
Brookite
Galena
Pyromorphite
Tetradymite
Cosalite
Chalcopyrite
Pyrite
Ferberite
Scheelite
Tungstite
Mineral Assemblages
Quartz - Rutile
Quartz - Pyrite
Quartz - Molybdenite
Details of the mine
Clear quartz was mined.
Localities
Related Occurrences
Copyright (c) 2014 NariNari, All Rights Reserved.